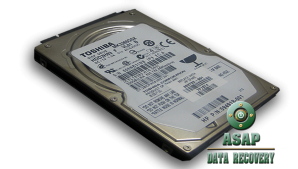 Toshiba Data Recovery: Common Failures
Malfunctioning read/write heads – Read/write heads are small, internal components of hard drives that rapidly glide along disk platters, another internal component of hard drives, to "read" or "write" data. The read/write heads don't touch the platters, but "fly" approximately three nanometers above their surfaces. When read/write heads malfunction, data can no longer be "read" or "written," which renders the hard drive useless.
Damaged PCB – A PCB (printed circuit board) mechanically supports and electrically connects the various electronic components of a hard drive. When a hard drive's PCB malfunctions, the hard drive will no longer spin up.
Bad sectors – Think of a "sector" as a "location" in a media device where data can be stored. Modern media devices can have anywhere from tens of millions to hundreds of millions of sectors (depending on the capacity of the device). Bad sectors are sectors that can no longer be used to store data, and are either the result of physical damage, such as scratches on the surface of a hard drive's platters or (for flash memory media devices) transistor failure, or logical damage, such as sectors being stuck in an irreversible magnetic or digital state (something that happens naturally over the lifetime of a media device). At ASAP Data Recovery Services, we use a technique called sector slipping to avoid the bad sectors on your damaged hard drive.
Toshiba Data Recovery: Common Symptoms
Clicking, scratching, clunking, or knocking noises coming from the drive.
Spins up, but then stops.
Doesn't spin up at all.
Isn't recognized in BIOS.
If you experience any of the above problems with your Toshiba hard drive and require Toshiba data recovery, please submit a request for a quote to receive free diagnostics.
Here is a list of some of the Toshiba HDD models we have data recovery experience with.
2.5-Inch Laptop/Notebook Drives


MK4058GSX HDD2H41 400GB
MK3254GSY HDD2E41 320GB
MK3252GSX HDD2H01 320GB
MK3253GSX HDD2H11 320GB
MK2554GSY HDD2E42 250GB
MK2546GSX HDD2D90 250GB
MK2552GSX HDD2H02 250GB
MK2553GSX HDD2H12 250GB
MK2051GSY HDD2E21 200GB
MK2049GSY HDD2E11 200GB
MK2035GSS HDD2A30 200GB
MK1654GSY HDD2E43 160GB
MK1651GSY HDD2E22 160GB
MK1649GSY HDD2E12 160GB
MK1646GSX HDD2D92 160GB
MK1652GSX HDD2H03 160GB
MK1653GSX HDD2H13 160GB
MK1637GSX HDD2D60 160GB
MK1254GSY HDD2E44 120GB
MK1249GSY HDD2E13 120GB
MK1251GSY HDD2E23 120GB
MK1246GSX HDD2D91 120GB
MK1252GSX HDD2H04 120GB
MK1253GSX HDD2H14 120GB
MK1237GSX HDD2D62 120GB
MK1234GSX HDD2D31 120GB
MK1234GAX HDD2D16 120GB
MK1233GAS HDD2A05 120GB
MK1034GSX HDD2D37 100GB
MK1032GAX HDD2D08 100GB
MK1031GAS HDD2A02 100GB
MK8054GSY HDD2E45 80GB
MK8051GSY HDD2E24 80GB
MK8049GSY HDD2E14 80GB
MK8046GSX HDD2D93 80GB
MK8052GSX HDD2H05 80GB
MK8053GSX HDD2H15 80GB
MK8037GSX HDD2D61 80GB
MK8034GSX HDD2D38 80GB
MK8032GSX HDD2D32 80GB
MK8032GAX HDD2D14 80GB
MK8025GAS HDD2188 80GB
MK8026GAX HDD2191 80GB
Newer 2.5-Inch Laptop/Notebook Drives
MK1032GSX
MK6032GAX
MK6032GSX
MK4039GSX
MK4058GSX
MK1229GSG
MK1629GSG
MK2529GSG
MK8017GSG
MK1617GSG
MK1231GAS
MK8031GAS
MK2431GAH
MK1214GAH
External Drives
HDDR160E03X
HDDR250E03X
HDDR320E03X
HDDR400E03X