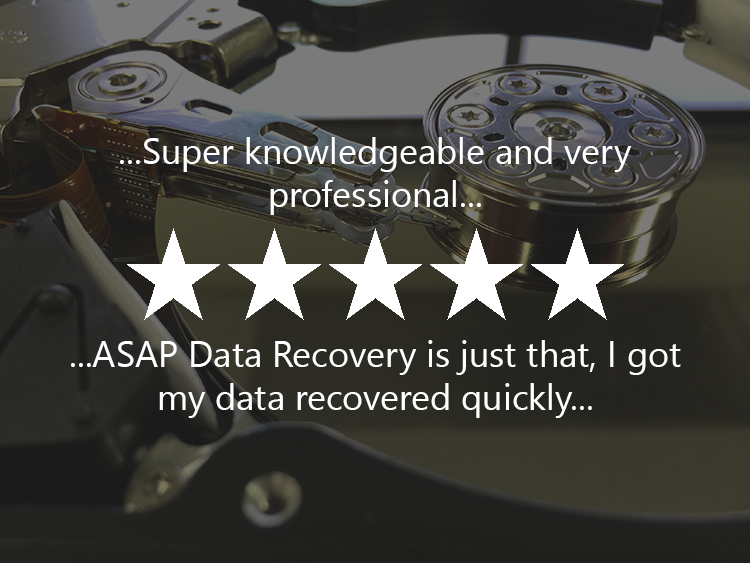 There's almost no need for us to prove we're better than every other Los Angeles data recovery company in the industry ourselves, our clients will do it for us with their data recovery reviews! We've spent years tailoring our business to be more client-focused and listen to any and all feedback with incredible attentiveness to ensure everyone will walk away satisfied after doing business with us.
How Can Someone Possibly Get So Many Positive Data Recovery Reviews?
We don't blame you for being doubtful after looking through all the positive feedback we've gathered over the years. Any business owner knows it's an immensely difficult task. You're not the first to think we're doing something unscrupulous to influence what people say about us. I assure you, though, every single testimonial we have is legitimate and hard-earned. We treat every client as if they're the most important client we have and, unsurprisingly, this tactic pays off!
Like mentioned above, when you come to us for assistance, you won't get the generic treatment. Every one of our clients receives a tailored experience that will meet their needs and, more importantly, their budget. It's because of this that we were able to earn hundreds of testimonials that praise our business practices.
We guarantee satisfaction even in cases where we don't successfully recover your data. This is because we try our absolute hardest and utilize every tool at our disposal before calling it quits. Also, we have a no data, no charge policy that ensures you don't have to pay us if we don't recover anything.
Another practice we've adopted is to never make our clients feel pressured. After receiving a firm price quote for our services, we won't pressure you to proceed. Even after performing a full recovery of your data, we won't pressure you to pay for our work. That's one thing that sets us aside from other data recovery companies: we don't require payment unless you want to take the data we recovered home with you.
Where Can I Find Your Data Recovery Testimonials?
Our testimonials are spread across many different websites: Yelp, Angie's List, Google+, Facebook, Shopper Approved, and even YouTube!
A Yelp data recovery review that we feel best captures the experience you can expect with us.
Read Jen A.'s review of ASAP Data Recovery on Yelp
Paris Strother is a member of Grammy-nominated KING, an all-female R&B/Soul group!
L.A. Beast is a YouTube celebrity and competitive eater.
With YouTube, we take data recovery reviews beyond simple text. Each of our clients is given an opportunity to provide a video review! You can browse through our large collection of video reviews on our YouTube page, but a few of our personal favorites are showcased below.
Where to Go from Here?
If you're looking for a data recovery company to recover your data, then we hope this article convinced you of our expertise and professionalism. Visit our Request a Quote page to start a new case with us and get free over-the-phone consultation. You're welcome to stop by our lab in Los Angeles anytime during our regular business hours if you'd like to see us in person or drop off your media device for a free analysis.
If you're just looking to learn about the ins and outs of data recovery, then perusing our Data Recovery 101 page is a good idea.