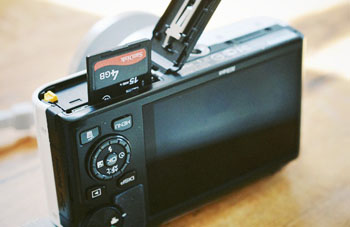 Memory cards are identical to USB flash drives as far as data storage capabilities are concerned, but are vastly different when it comes to functionality. USB flash drives are primarily used to back up data, whereas memory cards are primarily used to expand the data storage capacity of electronic devices such as cameras and handheld gaming systems. Engineers at ASAP Data Recovery Services have spent years developing effective methodologies in memory card data recovery to maximize their chances of recovering data from damaged memory cards. We pledge that if we can't recover the data off of your damaged memory card, nobody can!
Memory cards store their data on "flash memory chips," which function by manipulating a series of transistors with electrical currents. Rudimentary memory card data loss issues are solved by simply breaking open their plastic enclosures and extracting the data directly from the "flash memory chips" within. If, however, a memory card suffers from a more severe problem, additional steps must be taken in order to ensure that recovery is successful. "Mass storage controllers," another important component of memory cards, allow them to communicate with whichever device they are used in. Under normal circumstances, damage to a memory card's "mass storage controller" can also be circumvented by interacting directly with the card's "flash memory chips," but if the card is encrypted, the data will not be accessible at all until the "mass storage controller" is fixed or replaced.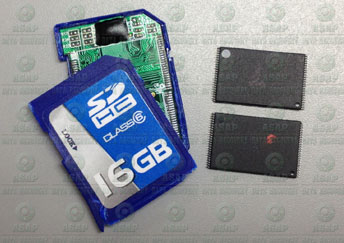 Some memory cards (especially PNY-branded and microSD cards) are "monolithic." In a "monolithic" memory card, all the internal components of the device, including the "flash memory chip" and the "mass storage controller," are combined into one single chip. Recovering data from a "monolithic" memory card is immensely difficult, as the plastic surface of the chip must first be removed with an abrasive to expose its circuits. This is a very delicate process where a single mistake can result in permanent data loss.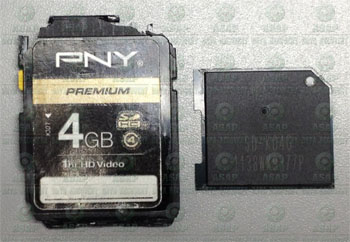 ASAP Data Recovery Services works with all types of memory cards, standard and "monolithic." We are the indisputable leaders in memory card data recovery services and will go to great lengths to ensure that your data is successfully recovered!
If you require expert data recovery in Los Angeles for your memory card, ASAP Data Recovery is your trusted partner. Our specialized memory card data recovery services in Los Angeles are tailored to meet your specific needs. Whether your memory card has suffered accidental file deletion, corruption, or formatting issues, our skilled team of professionals is equipped with advanced tools and knowledge to perform efficient and secure data recovery.
---
Here is a comprehensive list of the various situations in which you may require memory card data recovery services
Accidental Deletions
Virus Infection
Corruption
Lost Password
Lost Partition Structure
Controller Errors
Bad Sectors
Electrical Damage
Heat-Related Failure
Dropped/Cracked Casing
Natural Disaster Damage
Power Shortage or Spike
We provide memory card data recovery services for the following operating systems
Mac OS
Windows 8
Windows 7
Windows Vista
Windows XP/2000
Windows 95, 98, ME
Windows NT
Linux Distro
OS/2
Novell NetWare
UNIX
DOS
Other
We provide memory card data recovery services for the following brands of memory cards
Kingston
SanDisk
Lexar
PNY
Canon
Transcend
Olympus
HP
Other